After spending April studying for my O.W.L.'s (aka completing the coolest reading challenge, according to my biased inner Harry-Potter-loving fangirl), I am happy to announce I have read all the books and passed the Readathon! *Cue Weasleys' Wizard Wheezes Fireworks!*
As part of this Readathon, I was instructed to choose a Magical Career—I chose Journalist/Writer—which then provided me with reading prompts. See below for the gorgeous printables of my prompts and click here for my previous post describing the Readathon in more detail.
Now for the books!
HISTORY OF MAGIC: BOOK FEATURING WITCHES/WIZARDS
A Favorite Quote: "Do as you will, but harm no one.
What you give will be returned to you threefold.
Fall in love whenever you can."
I was intrigued by the modern, realistic take on witches in The Rules of Magic, and while I adored the individuality of the three main witch/warlock siblings, the rest of the story fell flat for me. I managed to read the entire book because the three main siblings were so fleshed out I wanted to find out what happens to them in the end. I was invested in them, but not in the world around them. Ultimately, what intrigued me about the premise is the same thing that made the story slow to read—I thought I was picking up a book about powerful witches who happened to live in modern times, but instead, I accidentally chose a book about modern-day people who just happened to have a magical lineage. All the magical elements of the story were bogged down by the reality of the world around it.
(*Disclaimer: I am not saying this is a bad book, I just misunderstood what I thought the book would be about*)
MUGGLE STUDIES: BOOK FROM THE PERSPECTIVE OF A MUGGLE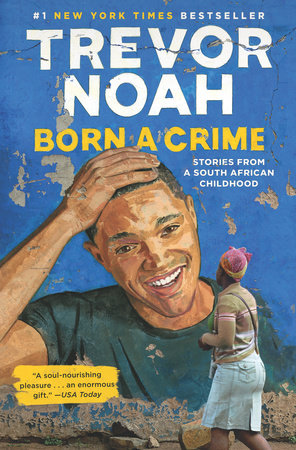 A Favorite Quote: "People love to say, "Give a man a fish, and he'll eat for a day. Teach a man to fish, and he'll eat for a lifetime." What they don't say is, "And it would be nice if you gave him a fishing rod." That's the part of the analogy that's missing."
Where to begin? Trevor Noah has managed to condense a tumultuous, inspiring, and unconventional life into 285 pages, and it is some of the greatest 285 pages I have ever read. Born A Crime is hilarious and dramatic, it's shocking and heartwarming, it's honest to the point of painful, and then it embraces you in a warm hug and a thought-provoking quote. Trevor covers a myriad of issues—colonialism, apartheid, feeling like an outsider, gender roles, love in all its forms, and so much more—and he does it with his signature wit and intelligence. I also appreciated that Trevor organized the book into essays surrounding different themes, as opposed to chronological order, because breaking up his story in themes actually made all the trauma and life lessons easier to follow and digest. 
Overall, I cried, I laughed, I sighed, and I put the book down to stare at my blank walls in silence because oh my God, I can't believe what I just read (but the best kind of awed silence). 
CHARMS: A BOOK WITH A WHITE COVER
A Favorite Quote: "There's no way to be a poet. You can't choose it because it chooses you. Maybe your soul refracts the universe in all its complex beauty and you are a shard of light in its great hallway of mirrors. The universe calls and compels you to write poetry because with every ounce of its being, it yearns to know itself through you."
By the halfway mark, I read Poemsia excruciatingly slow because I didn't want to finish it. You know the feeling when a book grips you, heart and soul, and you want to savor every word because you'll only have the experience of reading it for the first time, once in your lifetime? Yeah, that was my experience reading Poemsia. When I finally turned the last page, I couldn't stop crying for a while because I fell in love with this book and I was so sad it was over. This story was beautiful, relatable, and everything I needed to read at this point where I'm questioning so many things about myself, my writing, and my life. My bias towards Lang Leav aside, one of my favorite things about this book was the friendship between the main character and her best friend. Their friendship felt so real to me there were times I swear I could hear their voices saying the dialogue out loud, or see them living out a scene in front of my eyes. 
Ultimately, this is a book I would recommend to all my creative souls, and especially, to my fellow lovers of poetry. 
CARE OF MAGICAL CREATURES: A BOOK WITH A CREATURE WITH A BEAK ON ITS COVER
A Favorite Quote: "Happiness can be found, even in the darkest of times, if one only remembers to turn on the light."
There's no way I'm going to do a Harry-Potter-inspired reading challenge and not incorporate one of the Harry Potter books in here somewhere. I have a particular fondness for Prisoner of Azkaban because 1) this book introduces Sirius Black, who is my favorite of the four Marauders, and 2) this book introduces Dementors and the Patronus Charm. For those of you who aren't familiar, Dementors are soul-sucking creatures that make you relive your worst memories, and the Patronus Charm draws power from the user's happiest memory to create a spirit guardian which protects one from the Dementors. J.K. Rowling has said in interviews the Dementors are derived from her own feelings of depression. To this day, I love the idea that your happiest memory can be powerful enough to fight something which literally sucks your soul away. The Patronus Charm remains my favorite spell in the entire Harry Potter series. 
***
And that's it! Four books read, four O.W.L.'s passed! There's actually a second part to this Magical Readathon in August called the N.E.W.T's. Surprise, surprise, I'll be participating in that one too.
In the meantime, how are all of you coping with our global pandemic? Have you been finding comfort in any good books? Do you want to recommend any? Feel free to drop some book titles in the comments!
P.S. Due to my local library staying physically closed because of Covid, I've resorted to borrowing from the library's ebook and audiobook collections, which are extensive, but not the same. I miss holding books! I miss the smell of books! I miss sticking a random receipt or scrap paper into books as bookmarks! It really is the little things we take for granted, eh? Still, I will happily continue reading ebooks if it will help flatten the curve. I hope you are all staying safe and healthy.